Ever since 2012 I have been interested in the CryptoCurrency market (Yes Bitcoin fascinated me!) however, as, like many of us, we thought it was a pipe dream and did not invest in it. I did not even think about putting a cheeky $50 down. In hindsight that was a bit of a mistake. The value of Bitcoin has since gone to the moon! 2010 saw prices sitting below $1, now a single coin is worth approx $7k AUD! ($12k – 27/11/17)
So, of course, it's at this time I decided to do what I should have done years ago! Buy some Bitcoin! or at least some Crypto.  After joining the Crypto Australia group on Facebook and reading through some posts it became clear to me that Coinspot was the most user-friendly exchange to get started with. Coinspot is an Australian company operated out of Melbourne Victoria. (That was a win for me, Aussie based company for starters)
For those of you who just skim the page, see below a list of Pros and Cons. This will help in making up your mind. What I will say quickly though is that this exchange is perfect for the mum and dad investors looking to get a foot in the door!
You can check out Coinspot
Here!
Coinspot Pros and Cons
Ease of Use
Suitable for First Time Buyer
User-Friendly Interface
Crypto Delivered Almost instantly
Built-In Wallet to Hold your Crypto
PoliPay, Bpay and Cash Deposit
Secure 2Factor Authentication
Identity Validation Completed quickly
High Fees (2% for Crypto Transactions)
Limited Selection of Coins (However getting better!)
Charting is basic (Good for first-timers)
A more in depth look at Coinspot
So you have decided to take the plunge into the Crypto world and you have decided to use Coinspot for your first exchange of Fiat currency into CryptoCurrency. See below some more in-depth info to help you get started.
Sign Up and Verification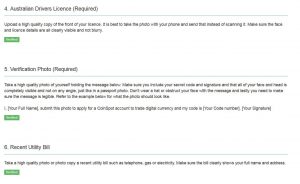 The first step is to sign up for an account on Coinspot and go through the verification process. Some might be hesitant to hand over a lot of personal information, however, I do believe this added step in security only benefits the members and the community. It makes it just that little bit harder for the scammers and crims to also be involved. Some of the verification steps will require you to scan and send your driver's license, a verification photo holding a handwritten sign, and a copy of a utility bill to confirm the address. This is all completed and sent to Coinspot via the secure portal they provide. I submitted my verification on a Sunday morning and it was verified that night. They even gave me a phone call to confirm that I had not given them an incorrect phone number. Once verified you are good to go to buy your first crypto.
TIP – Enable two-factor authentication on your account and get the google Authentication App on your phone. It adds an extra layer of security to your account. When dealing in Crypto and $$ you should go to this effort. It may save you later on. Especially if your portfolio grows.
Buying your first Coin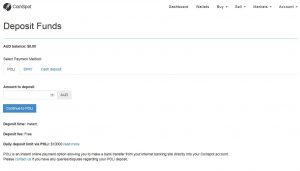 You will now be required to make a deposit into your account. Coinspot has 3 methods. PoliPay, Bpay and Cash Deposit. Polipay has the lowest Fees at $0, Bpay @ 2% and Cash Deposits at 3%. Cash Deposits are via BlueShyft which you can complete at many Newsagents around the country. At first, you will be limited to $2000AUD per day. However, once you have gained some "purchase experience" the cap will be raised to $10,000AUD.
No matter how you get your AUD into the exchange it will then show up as a Balance that you can use to purchase Crypto.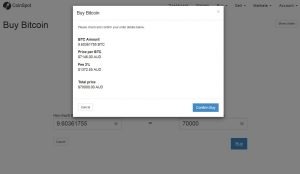 Now that you have a Balance in the exchange you can purchase your first Crypto. Click on the "Buy" button in the top menu, and select how much you want to purchase. Either the Crypto amount or how much you want to spend of your Balance. Click buy and you will be greeted with a summary page. This will list the fees for your transaction. Take note of the 2% fee. Once purchased it will take a few minutes, but you will see the balance pop up in the wallet of the coin you purchased.
You can check out Coinspot
Here!