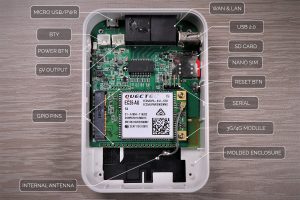 If like me, you travel a lot, then having a solid travel router that allows me to work on the move securely and with anonymity is a necessity. The GL-MiFi router has proven to be a solid and reliable unit that has some perks that other travel routers cannot match. This review will cover some of the pros and cons. However, saying that, the Pros far outweigh the cons!
The GL-MiFi is powered by an Atheros AR9331 processor, is small, lightweight and contains a slot for various PCIe 3G or 4G modules. Combine that with 150Mbps Wi-Fi and you have yourself a very powerful little device. The GL-Mifi runs an embedded OpenWrt system, is extremely extendable via hardware and software. It can be used in mobile applications, industrial, commercial or at home.
Pros
3G/4G capable
Built-in Battery for mobile use
OpenVPN client capable
Excellent portability
6-8hrs uptime on battery
Cons
When trying to charge the battery, the router turns on.
GL-inet frontend software can be clunky at times.
GL.inet GUI has been updated and is much better now.
The sim card can easily be inserted incorrectly.
Gallery
Specifications
| | |
| --- | --- |
| CPU | Atheros AR9331, @400MHz |
| Memory | DDR 64MB/ FLASH 16MB |
| Interfaces | 1 WAN, 1LAN, 1 USB2.0, 1 micro USB (power), SIM card slot, MicroSD card slot, Antenna SMA mount holes |
| Frequency | 2.4GHz |
| Transmission rate | 150Mbps |
| Tx power (maximum) | 18dBm |
| Protocol | 802.11 b/g/n |
| Power supply | 5V/2A |
| Power consumption | <3W |
| Dimension, Weight | 105*72*27mm, 170g |
The Hardware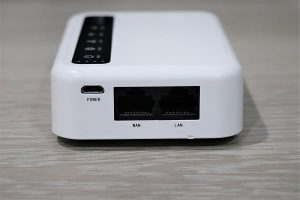 When you first get your hands on the router, you notice that the enclosure is very solid. (As you can tell, I have dropped this unit twice? and it still works!) Nothing about the physical form of this router says 'cheap' or 'made in China', The quality is second to none. All clips, buttons, and panels feel as if they will last the distance. This gives me confidence, I was certainly not afraid to throw it in my backpack with all the other crap I carry around.
3G/4G Module(s)
One of the standout inclusions in this travel router is the modulized 3G/4G PCIe cards that can be included. We ordered the Quectel EC25-AU with the unit. The seamless?integration of this module with the built-in WiFi means that we can share a 3G/4G connection with as many devices as we need to. The configuration is as easy as inserting a sim card and selecting the region and provider. The module connects very quickly, so long as you have a data plan you will have connectivity to the internet. Of all the GL-inet travel routers the GL-MiFi is the only one with integrated cellular. Sure the other travel routers can use a USB dongle and tether, but nothing beats the quality and reliability of these built-in modules. For more info on the Quectel 3G/4G modules check them out here.
The Software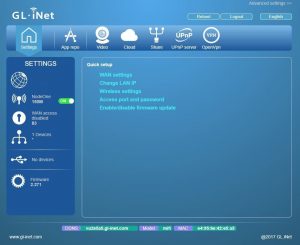 The GL-MiFi runs an OpenWrt firmware with a custom front-end user interface for its users. I think the 'vastness' of the LuCi interface could be a bit daunting for some, so they decided to write a front-end graphical user interface (GUI) that is easier to use and understand. From a basic user point of view, I think they achieved this goal. However some of the more advanced tasks you still need to achieve from the LuCi interface.
The custom interface interacts with OpenWrt and at times can feel a little bit clunky. Firmware improvements are being rolled out all the time and in the few months I have had the unit, I can see that the GL-inet crew are developing this frontend and fixing bugs as they come up.
The Fun Stuff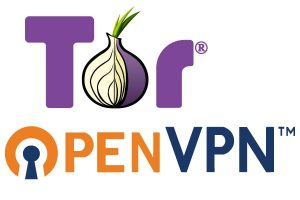 By Far the coolest part of the GL-inet routers is the fact that they can operate as an OpenVPN client and a Tor router. (We will do a post soon on setting up as a Tor router.) However, for now, we are going to focus on the OpenVPN side of the device. The OpenVPN client can be used in two ways. Either connect to your own self-hosted VPN server or connect to one of the popular paid VPN services. The paid services allowing anonymity and safety of your data whilst traveling, or operate through your own self-hosted VPN for access back into your business or home network. A typical setup of the OpenVPN service through a paid provider can be found here. (The setup on this router is the same for the MiFi)
If you have a keen eye on the GL-inet routers then you might have also seen in the newest firmware an 'OpenVPN server' being rolled out in the beta form. I am yet to have a play with this, however, it is exciting to see a device no bigger than a rich-mans wallet hosting its own VPN server.
What next?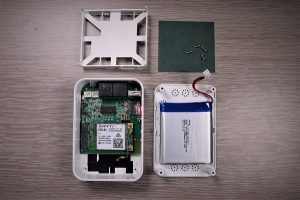 So many cool things still yet to be achieved with this router. Here is my list, in no particular order, of the bits and pieces I want to achieve.
Solar power kit to run the MiFi indefinitely.
Run up the Tor firmware.
Look at Mesh firmware
3G/4G VPN tunnels into other networks
Control relays from GPIO pins onboard.
If you have any thoughts on what else we could do here, let us know in the comments below. Very keen to get your thoughts!!!