When was the last time you went shopping for a large outdoor table? How about the prices of them? You're easily looking at $1000-$2000 for a complete set. Even then, half of them feel flimsy and look like they won't outlast the Australian summer! 'So build one yourself then smart -arse'…..ok, challenge accepted.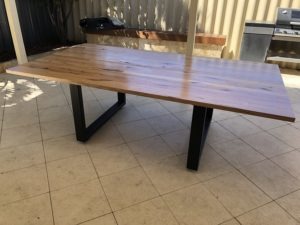 A few weeks back I had to re-do the benchtop on an outdoor kitchen, I searched high and low for some good solid wood that I could use for the bench. I finally came across a place north of me that sold slabs of victorian ash at a VERY good price. The pieces are not perfect, a few knots here and there, but they are solid.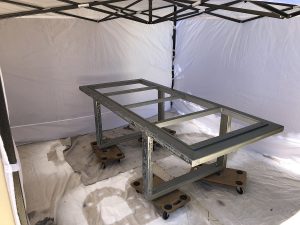 I actually decided upon the tops before I even decided on the legs. The legs I thought would be the easy part. Just go to bunnings and grab some legs yea…..naaa. These tops came in lengths of 2400 x 641 wide, and I wanted to use two side by side. Bunnings legs were not going to cut it. So after a bit of surfing the Facebook market place I came across an ex-boily who had welded up some frames for similar purposes. His forte certainly was not paining though as it has some really crappy grey sh*t on it that had to go.
Well, that's enough jabbering on, a picture tells a thousand words. (See Below.)
BOM:
2 x Vic Ash Bench Tops (2400 x 641 ) – $120ea
Solid Steel Frame (Facebook marketplace) $150
Flappy disks for Grinder (Remove paint) – $7
Primer x 2 cans – $24
Epoxy Black Satin Paint x 3 Cans – $48
Clear-Coat x 2 cans – $24
Feast And Weston Weatherproof Stain and Seal – $59
Approx Total: $552 (Haven't even got the chairs yet…)
Labour Times:
Sanding Tops – 120grit, 240 Grit, 400 Grit. – 2-4 hours.
Seal – Tops had 3-4 coats with 12 hours between.
Light sand between coats with 400 grit sandpaper
Strip metal frame – 2-3 hours
Paint Frame – 3-4 coats all up. 20min per coat
Approx time: WAY too much