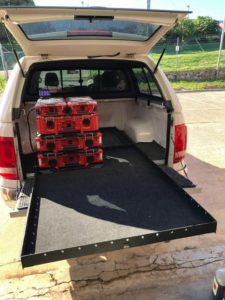 Concept
The electric car build has stalled, thus I thought I would post an update on my latest lithium battery build. This one was dreamt out of necessity. After doing a large amount of renovations on an investment property and not having power to charge batteries and run tools I decided to build myself a battery. The 2 key factors for this build were: Portability – It needed to go in and out of my Ute with ease, and Modular – I need to be able add components that I need as I go without hassle.
I decided pretty early that I was going to use the Milwaukee Packout cases. Yes they are a bit expensive, but they fit the bill for portability and modularity. Its already setup in a way that they can be clipped in and taken out easy. They also have a wide range of different cases which would fit my build perfectly.
Battery Box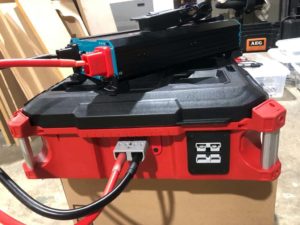 The idea is to have a battery as the main component. For the battery I used the Packout toolbox 48-22-84-8424. I chose this case because of its rugged design and the additional stabilizing/protection that it has on the sides. You should be able to drop this on a corner and it will not break. This case features a 4 x Lifepo4 Prismatic cells, a BMS, an active balance board, temp sensors, Fuses and circuit breakers. A link cable is used from a 120A Anderson connector to connect to the control box. However you can use this box independently if required.
Control Box
The control box is used to breakout additional 12v Accessories. As you can probably see from the battery case, it is limited on inputs and outputs. This control box features 4 x 50A Anderson Outputs, 1 x 120A Anderson output (Connected via a 200A contactor), A 2.1A USB and CIG plug. All of these outputs are fused and controlled via a little tactile switch panel with relays. A link cable from the battery plugs into the side. The control panel can be remoted away from the packout via a 2m cable. I plan to put some magnets on it and route to the back of the ute for easy access.
Solar Charger Box
The solar control box will house a Victron MPPT charger and hopefully a DC-DC to assist charging from the vehicle. I am yet to build this one. TBC
Inverter Box
I have a 1000W Renogy Inverter to put into a box and breakout. The reason for the 1000W Renogy and not larger is because of the 120A limit of the BMS and Anderson connectors. At full draw, we should be seeing 90-100A @ 12v.
Other Potential Boxes to build
If anyone has any other ideas I am all ears!